Affordable Areas - Old Dubai
BY ADMIN | december 13, 2018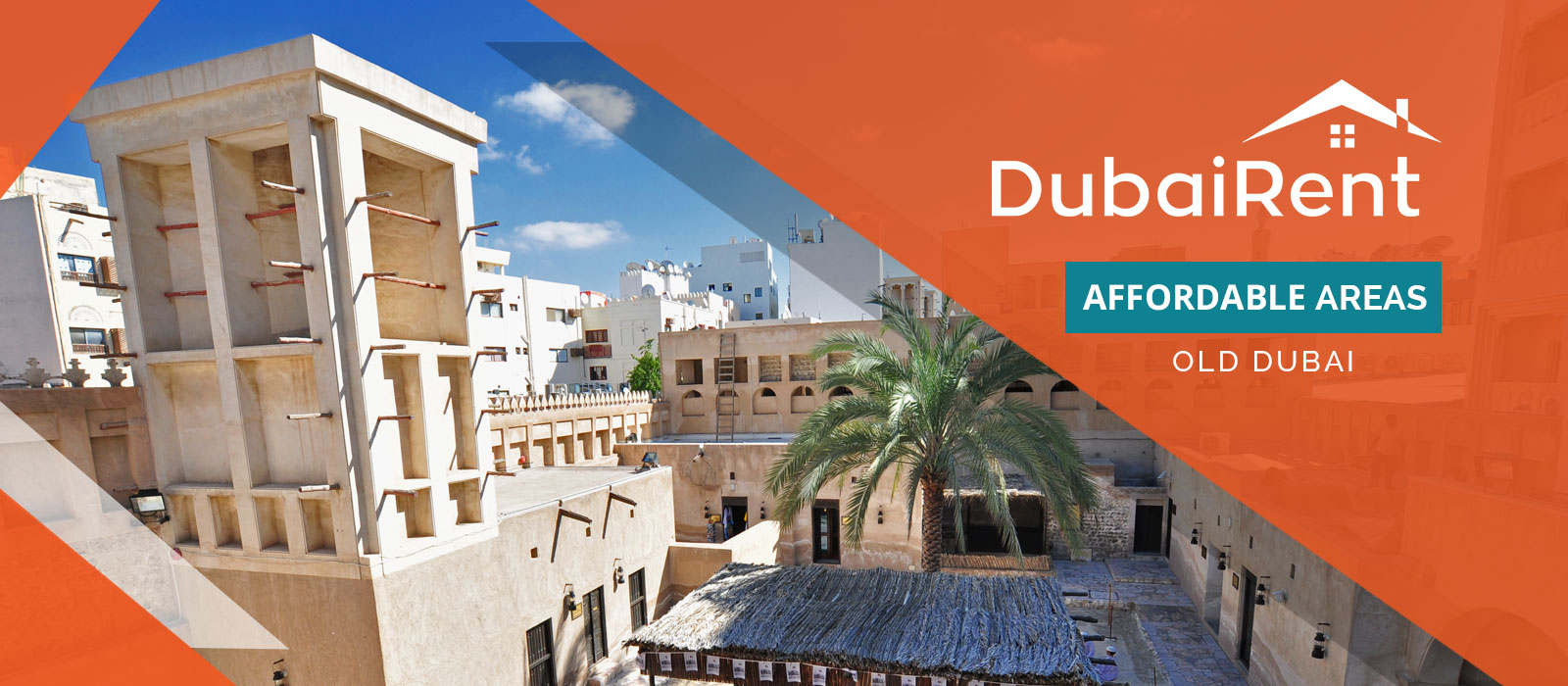 Dubai has pinned itself on the global charts as a place oozing with luxury that comes at a price – high living costs. Although often, the city does not present itself far from its reputation, there are plenty of areas within the city where the monthly rent won't put a massive hole in your pocket. True to its diverse culture, the city offers options for all sorts of financial backgrounds.
The five areas mentioned in this list are all from what people refer to as, 'The Old Dubai'. This half of Dubai is what the present extravagant Dubai is built upon. Embedded in history and deeply rooted in the nation's culture, these neighbourhoods offer low-cost living without compromising too much on the facilities the area provides. Here are the top five affordable areas to rent in Old Dubai:
1. Bur Dubai
One of the oldest districts of Dubai, this neighbourhood is a historic treasure. The house of the late Sheikh Saeed Al Maktoum, Ruler of Dubai, is also present in Bur Dubai. This district is sandwiched between Deira and Downtown Dubai – the old and new Dubai – making it a convenient location to access both sides of the city. The two networking roads in the area are E11 Sheikh Zayed Road and the E66 Dubai-Al Ain Road. Situated only fifteen minutes away from Dubai International Festival City and Dubai International Airport, Bur Dubai is a prime hotspot for many residents. Not swaying away from network transportations, the neighbourhood hosts multiple metro stations - Burjuman on the red line, and Al Fahidi on the green line.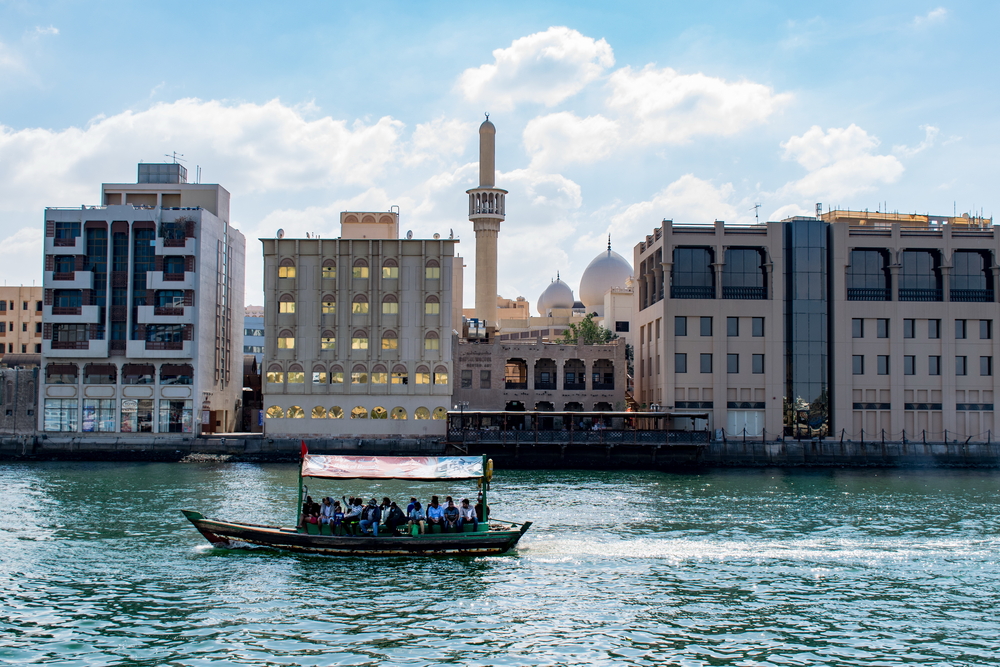 Standing reasonably-priced, a studio apartment for rent in Bur Dubai costs an average AED 45K annually, while a one-bedroom apartment can be rented at AED 70K yearly. Meanwhile, there is no shortage of two-bedroom apartments for rent in Bur Dubai, costing you AED 90K annually. Moving up rooms, three-bedroom apartments can be rented at AED 135K for the year. Popular areas within the development include Al Jaddaf, Al Raffa and Mankhool Road.
Bur Dubai offers some of Dubai's best local attractions that are rooted in the country's history. Besides the late King's palace, the neighbourhood also houses the Dubai Museum and Al Bastakiya. Joining Dubai's ever-growing list of attractions, the Dubai Frame is situated just twelve minutes away from the area. Not to be forgotten, this neighbourhood also hosts Dubai's first floating hotel – the infamous Queen Elizabeth 2 ship, docked at Port Rashid. Much like the rest of this area, Queen Elizabeth 2 is embedded in history and offers heritage tours. In terms of shopping, the town offers old-fashioned souq markets with open stores offering everything under the sun – from textiles to electronics, to wholesale food items and furniture – this grand market has it all. Like most of Dubai, Bur Dubai has multiple grocery stores and clinics littered at every corner of the street.
2. Deira
Deira was once known as the commercial bub of Dubai, quickly becoming a city that is the true foundation of what Dubai is built upon. Even to the present day, the commercial aura seeps into the neighbourhood, with plentiful offerings for upcoming businesses. If you're not interested in the glitz and glamour that Downtown Dubai brings into your life, Deira is peaceful and serene with offerings of multiple historic landmarks and a strong community. The E11 Sheikh Zayed Road networks this city, with the road heading towards Sharjah when driven East and New Dubai when driven West. Despite being dated, the city is still well-connected, housing three metro stations in the area. Namely: Deira City Centre, Union and Al Rigga. Dubai International Airport is a short twelve-minute drive away, while areas of New Dubai such as the Downtown Dubai and Dubai Marina lie 25 to 35 minutes away.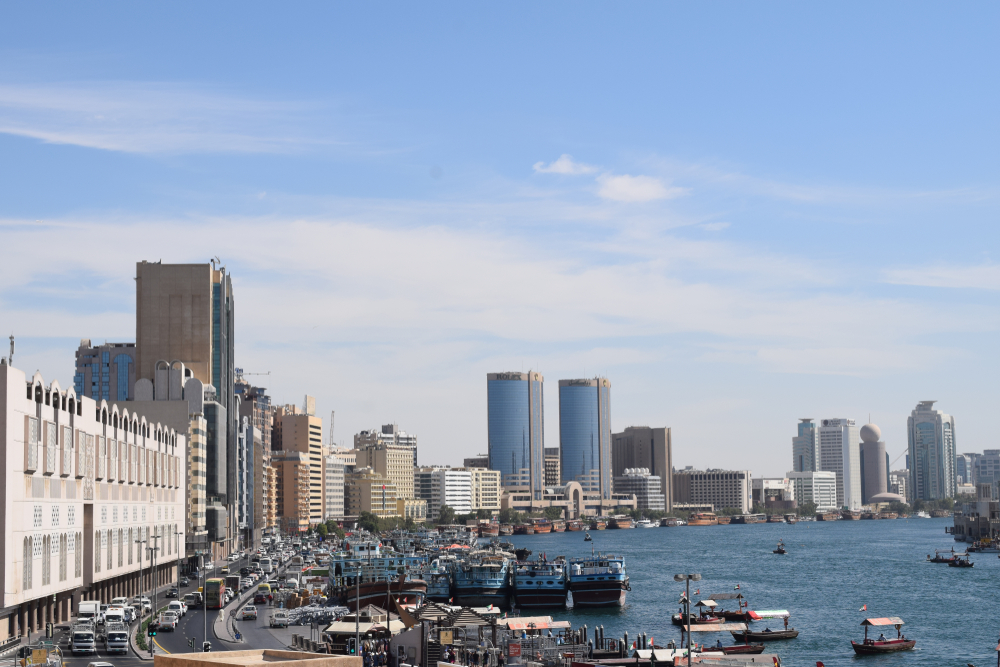 Due to its affordable housing, Deira is popular amongst bachelors, singletons and small families. Popular areas within this community include Al Baraha, Al Riqqa, Al Muraqqabat and Al Mamzar. A studio apartment for rent in Deira costs an average 32K annually while a one-bedroom apartment for rent in Deira is priced at AED 60K yearly. Moreover, two-bedroom apartments and three-bedroom apartments in the area can be rented at AED 85K and AED 115K respectively. Much like most of Dubai, lots of upcoming real estate construction is happening within the neighbourhood, the long-awaited Deira Islands and Deira Waterfront being a few.
One of the main reasons why Deira is so well-loved is because of its array of amenities. Whether it may be grocery stores, retail markets, clinics or even shopping malls – Deira has plenty of them. Deira City Centre and Ghurair Centre are two popular malls in the area but old-fashioned souqs such as the Gold Souq, Perfume Souq and Spice Souq are also ever present. The Gold Souq boasts uniquely and intricately designed pieces that range from delicate to full-body. The Spice Souq is a must-go for not just your spice needs but also medicinal herbs and dried floral decorations. The Heritage House and Naif Museum are situated in the neighbourhood too. Eateries within the area include the classic Arabic flavoured-menu restaurants such as the Aseelah but high-class restaurants such as Gordan Ramsay's Table 9 are also available to enjoy.
3. Muhaisnah 4
One-fourth of the Madinat Muhaisnah sub-communities, Muhaisnah 4 is often an overlooked area. Situated next to
Al Qusais, this community is relatively new within the 'Old' side of Dubai. The neighbourhood is bound by two main aerial highways – E311 or Shaikh Mohammed Bin Zayed Road and D60 or the Al Rashidiya Road. Relatively newer than the other areas mentioned in this list, Muhaisnah 4 has rapidly developed to offer first-class amenities to its residents. From local malls to multiple hospitals, this neighbourhood has them all. Not too close to Sharjah but not too far from central Dubai either, Muhaisnah 4 is a ten-minute drive away from Dubai International Airport. The Deira corniche is a twelve-minute drive, while other hotspots such as Dubai Festival City lie fifteen minutes away. Although the community does not have its own metro station yet, Stadium, Qusais and Dubai Airport Free zone are the closest stations. Still, the neighbourhood has plenty of bus routes that will take you to and back from all parts of Dubai.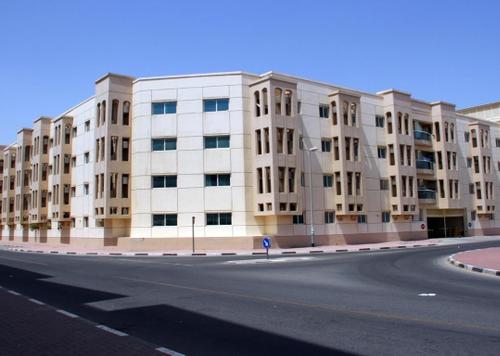 Another area popular among bachelors and couples, a studio apartment for rent in Muhaisnah 4 is priced at AED 30K. Meanwhile, one-bedroom and two-bedroom apartments can be rented at a modest AED 45K and AED 55K respectively. Three-bedroom apartments for rent in Muhaisnah 4 would set you back AED 80K annually. Hessa Building and Fatemah Building are two popular residential living spaces. The neighbourhood welcomes expats and locals alike, with majority of the population leaning towards the expat population. Although bachelors and young couples are common within the area, the community has plenty of larger families residing in the multiple three-bedroom residential housing areas.
Although parts of the neighbourhood are still under development, with multiple low-rise towers in works, Muhaisnah 4 has not ignored the needs of its residents. Madinah Mall is a popular spot amongst the residents, with multiple retail stores, restaurants and entertainment options present in the shopping centre. Families with children often visit the Qusais Pond Park that lies near the neighbourhood – only a five-minute drive away, as well as Al Nahda Pond Park that is a ten-minute drive away. Multiple clinics such as the Aster Clinic and Grand Infinity Medical Centre are present in the area, along with pharmacies. Although restaurants like Subway and Shater Grill House are ever-present, cafeterias such as the famous Eat and Drink will satisfy your daily needs. Much like the other areas mentioned on this list, this neighbourhood has a community that never sleeps. Even if it's 2 a.m., you will find a thriving community having tea in the cafeterias.
4. Al Karama
Located next to the Dubai Creek, Al Karama is next on our list of affordable areas of living. This neighbourhood is known for its independent shops and bargain stalls, making it easy for anyone on a tight budget to not only bask in the affordable rent but also enjoy the low-cost daily expenses. It shares its border with Oud Metha, Umm Hurair and Al Jaffiliya. Two main highways border the region – D88 or Sheikh Khalifa Bin Zayed Road and D84 or Zabeel Road. Al Karama is a short eight-minute journey away from the Dubai World Trade Centre. Other popular Dubai localities such as Downtown Dubai and Dubai Festival City lie fifteen minutes away. Although Al Karama does not have its own metro station, the area shares stations with Al Jaffiliya, BurJuman and ADCB.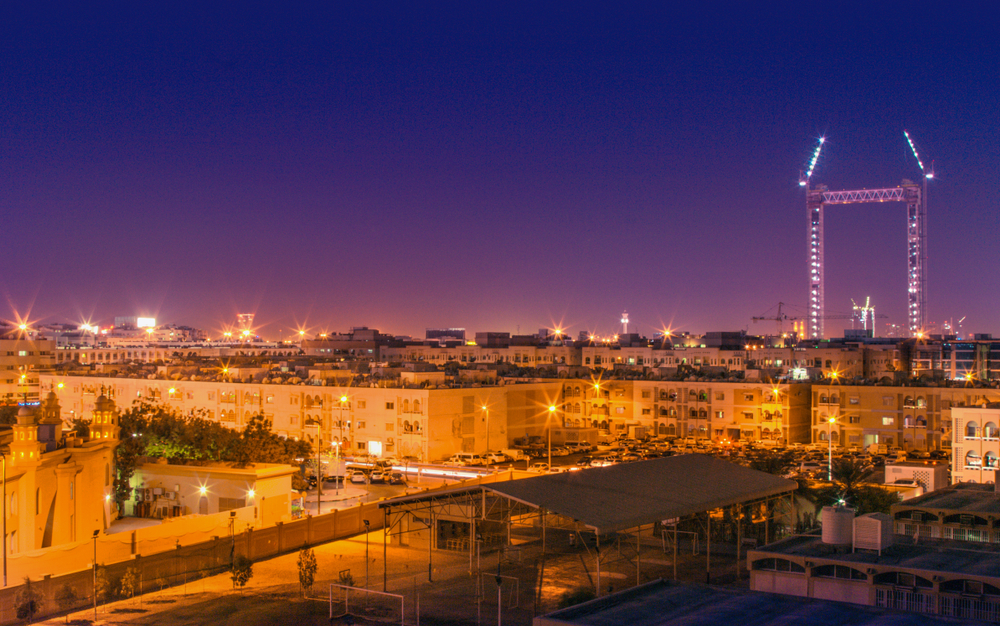 Largely, the area houses expatriate population that are interested in either shared living or have small families. Staying true to Dubai's diversity, residents from European, Middle Eastern and Asian decent are popular. Young couples, bachelors and families with one or two kids are common within the vicinity. Al Karama provides studio apartments for rent at a price of AED 45K a year, while a one-bedroom apartment for rent in Al Karama is tagged at AED 70K annually. For those looking for a greater number of bedrooms, the neighbourhood provides 2-bedroom apartments for AED 85K. While the area does not have many three-bedroom apartments for rent, the average price for such housing is priced at AED 130K.
As mentioned earlier, Al Karama is famous for its bargain shopping. Karama Souq is a popular destination where one can find a plethora of leather bags and fancy clothing options. Sandwiched between Dubai World Trade Centre and Al Karama is Zabeel Park – one of Dubai's frequently visited green areas. There are plenty of activities to keep you busy at this park, with live music and temporary stalls, Zabeel Park is a great place to visit regularly once the summer season comes to an end. Meanwhile, Dubai Creek is a great hotspot to visit during summer. With spice souqs, museums, cable car rides and multiple street events, Dubai Creek has a little bit of everything for you to have a good time. Emirates Post Office is also located within the neighbourhood. Asian restaurants such as Delhi Darbar, Ravi and Bikanervala dominate the Karama streets, however, other cuisines are also readily available in the area. Lastly, medical centres such as the Karama Medical Centre are also present.
5. Al Qusais
Al Qusais, simply put, is one of the best places to live in Dubai. Not only is the location of this neighbourhood extremely convenient, but the community is strong and enthusiastic, there are plenty of affordable options right next door and there is a plethora of dining, entertainment and shopping destinations. Sub-divided into three residential areas: Al Qusais 1,
Al Qusais 2 and Al Qusais 3, it shares its borders with the Muhaisnah neighbourhoods, Deira and the Al Twar communities. Getting to New Dubai will take one an average of twenty to thirty minutes, depending on traffic. Two main roads connect
Al Qusais to the rest of Dubai – E11, Sheikh Zayed Road and E311, Sheikh Mohammed Bin Zayed Road. Additionally, for those that use public transport, Al Qusais has plentiful to offer. Five main stations to access easily from the area are: Al Qusais station, Etisalat station, Al Nahda station, Airport Free Zone station and Stadium station.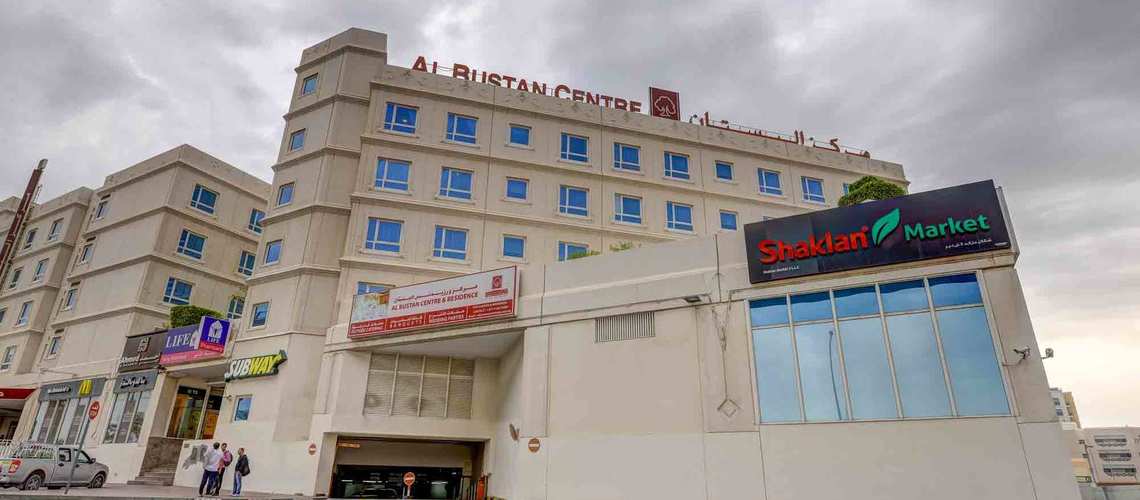 One of the main reasons Al Qusais is so highly sought-after is due to its affordable and large, spacious living. Popular amongst a variety of family groups, this area welcomes large and small families alike. Starting at studio rentals, the area offers studios for AED 36K and one-bedroom apartments for rent at AED 45K. Meanwhile, two-bedroom apartments and three-bedroom apartments for rent in Al Qusais go for AED 60K and AED 85K annually. There is a good mix of different nationalities living in the area, although locals are popular here compared to other areas on the list.
Al Qusais, spanning over such a large area, offers multiple options for each facility – catering to everyone's budget and style. Two hospitals dominate the area – NMC and Zulekha Hospital – while smaller clinics include Aster Medical Centre and Joseph's Clinic. Four different Government organizations reside in the area: Al Qusais Police Station, The Ministry of Education, Ministry of Labour and The Dubai Civil Defence Headquarters. Since the area is popular among families, two large parks have been developed to meet their needs, namely, Al Qusais 1 Park and Al Qusais 2 Park. Horse enthusiasts can enjoy lessons at the Al Ahli Horse Riding Club. Several outlets of Carrefour and Lulu hypermarket are present in the area, competing against the overabundance of smaller independent supermarket chains. As usual, plenty of eating options are provided within the region, from fast-food chains to gourmet food. Buddha-Bar is a popular destination that offers a fusion of Thai, Chinese and Japanese flavours. Given the variety of facilities, it's no wonder that apartments listings in Al Qusais hardly go unanswered for long.