Affordable Areas - New Dubai
BY ADMIN | September 21, 2018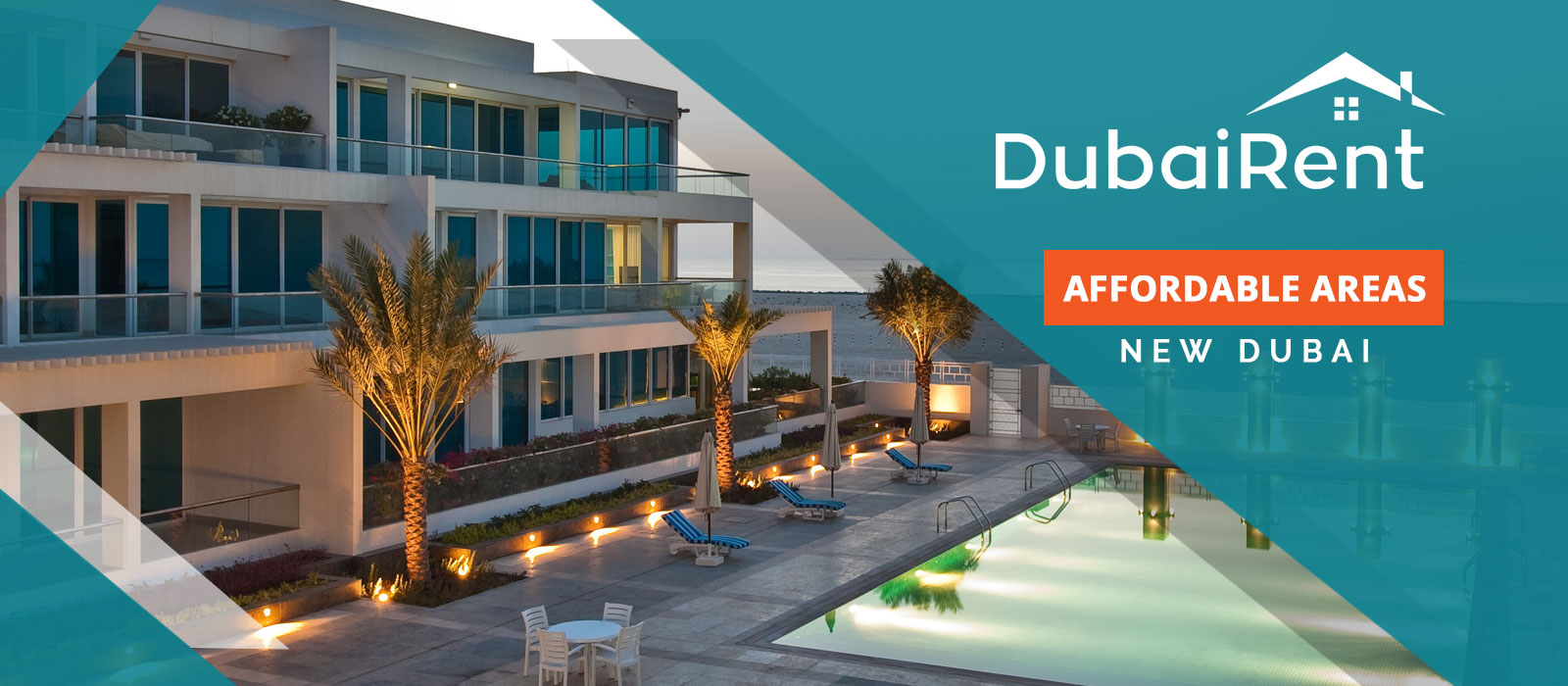 Dubai is one of the most expensive cities to live in the world. Constantly ranked one of the top cities to offer luxurious living, it is no surprise that Dubai's lifestyle comes with a hefty price tag. However, those thinking of moving to Dubai or shifting within the emirate itself should not be put off by the illusion that all living spaces here are expensive.
Dubai is a massive city, catered for people from all backgrounds – culturally and economically. The city offers a plethora of areas with prices ranging to suit anybody's budget. The following areas mentioned are all up-and-coming and well-established areas where rents aren't outlandish. These are places you would be proud to call home. Keep an eye out for an in-depth area guide on all these area on DubaiRent.com! Here are the top five most affordable places to settle in Dubai:
1. Dubai International City
At the top of our list is one of Dubai's well-connected and flourishing area of living. Dubai International City consists of over 22,000 apartments and plentiful villas spanning over ten clusters named after different areas of the world. The most popular of these include the England cluster, Spain cluster and Al Warsan Village. The layout of the city was inspired by traditional Middle Eastern carpets while the residential houses are designed with bucolic architecture in mind. Dubai International City is located at a top-spot area with access to Mohammed Bin Zayed Road (E311) and has an upcoming highway to ease access between the city and Downtown Dubai. The neighbourhood is a twenty-minute drive away from central Dubai, Dubai Mall and Dubai's finest trophy – Burj Khalifa.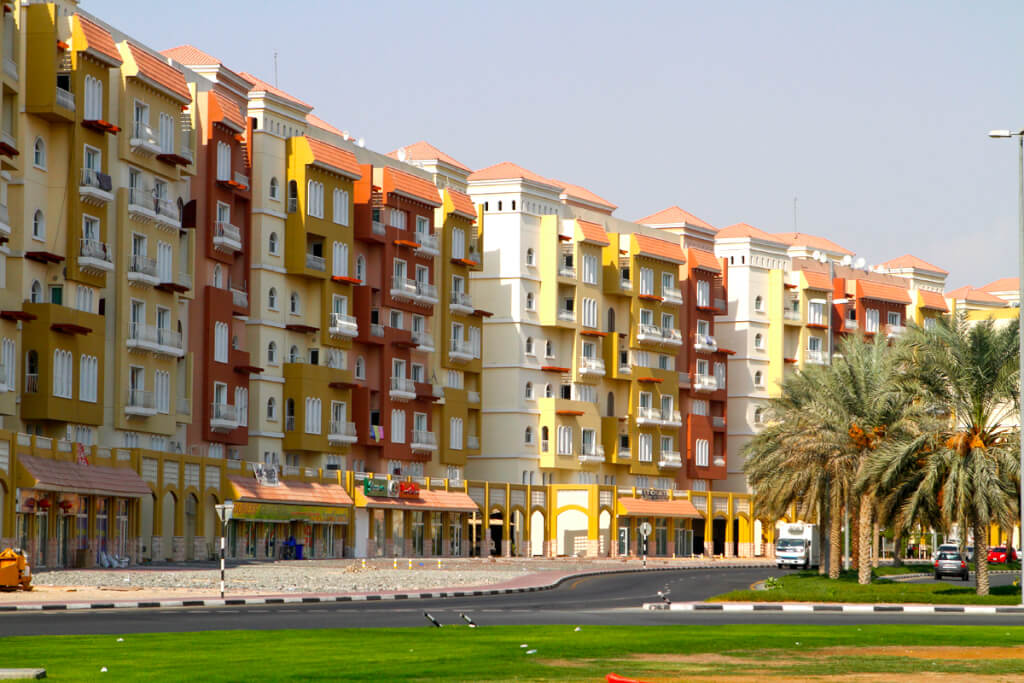 One will be spoiled for choice within this community. Dubai International City is perfect for independent living with studio apartments priced at a modest AED 29K. An average one-bedroom apartment will cost AED 38K to rent, as of early 2018. A modern three-bedroom villa can be rented for AED 85K within the development. Popular buildings in the area are primarily present within the Spain, England, China, Greece, Italy and Emirates Cluster.
Fittingly, Dubai International City attracts a diverse range of tenants, represented by their own country-themes clusters. Al Aweer Central Fruit & Vegetable Market is popular among the residents of the neighbourhood, with finds of fresh fruits and vegetables at a low cost compared to those found in the local supermarkets and hypermarkets. The area is well served for the shopaholics thanks to its two Dragon Mart shopping centres and an array of local supermarkets. Moreover, the development houses an estimated five thousand retail stores offering varying services included beauty parlours, cafes, pet stores and more. Although numerous polyclinics are scattered within the development, Al Rashid Hospital is a fifteen-minute drive away. The latest addition to Dubai's growing tourist hotspots, Dubai Safari is situated within Dubai International City and is a must-see for all.
2. Dubai Investment Park
Situated beside Jebel Ali, Dubai Investment Park chooses to lead a way of luxurious yet affordable living through a green eye. Focusing greatly on environmentally friendly development plans, Dubai Investment Park spans over 2,300 hectares and houses nearly two thousand tenants. The development offers an array of living spaces from villas to townhouses – all at a price that won't dent your wallet. Seven unique communities reside within the area, the most popular being The Green Community and The Palisades. Both communities are self-serving and popular among the expat population.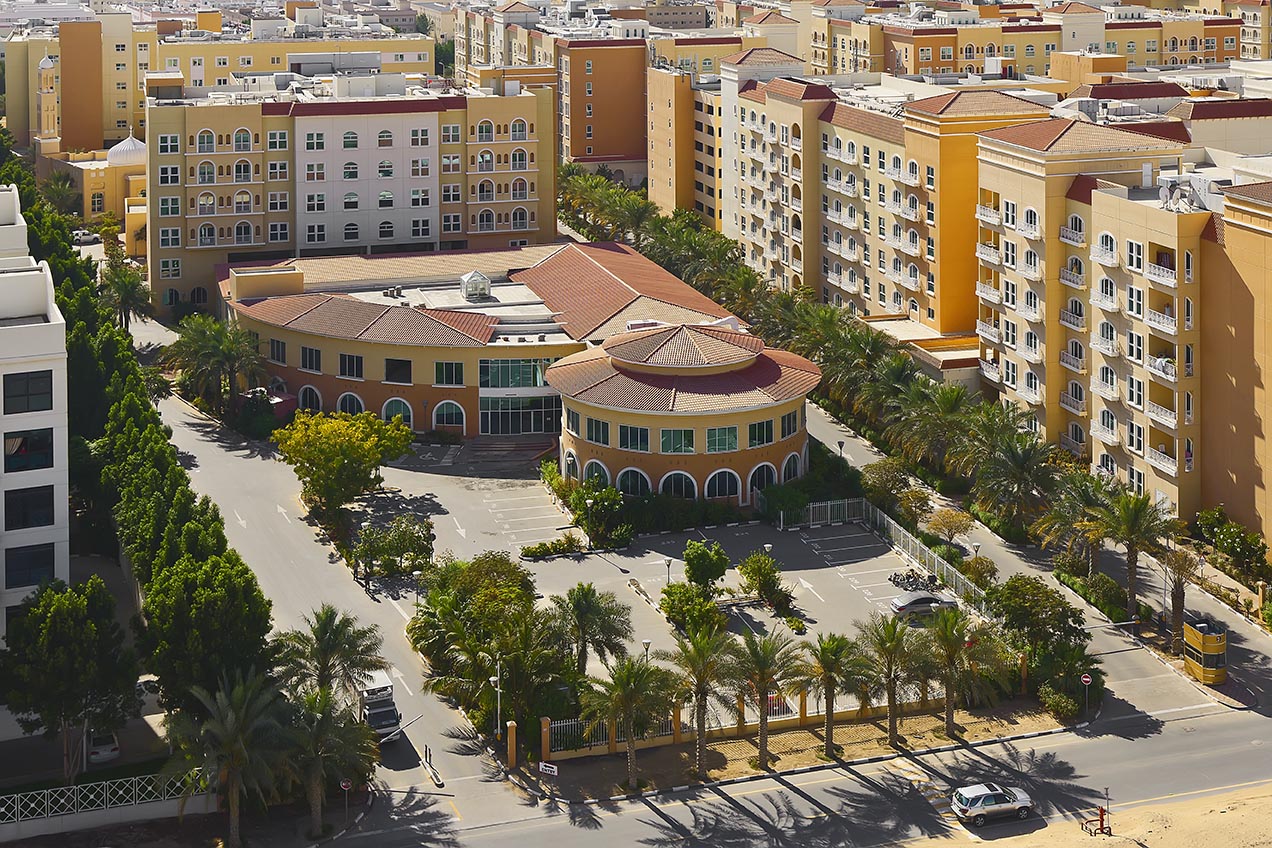 Amongst the low rent apartments in Dubai, Dubai Investment Park provides beautifully designed studios, one-bedroom, two-bedroom and three-bedroom apartments. A studio apartment is tagged at AED 38K while 1-bedroom apartment for rent is priced at AED 50K. Within Ewan Residences, a popular community in Dubai Investment Park, a two-bedroom apartment would cost AED 65K for rent. Additionally, a three-bedroom apartment for rent in Dubai Investment Park is priced at AED 120K per year. In terms of the pricing trend, rentals for apartments within Dubai Investment Park have decreased greatly within the past five years.
Access to and from Dubai Investment Park is a breeze thanks to its prime location in the intersection between Sheikh Mohammad Bin Zayed Road (E33) and Jebel Ali al Habab Road (D57). Due to its location near the highway, central Dubai is never too far away with Dubai Marina a twenty-minute drive while Dubai Mall should take you around twenty-five minutes. Dubai Investment Park houses two shopping centres – The Market and Souq Extra! – that have the answers to all your shopping needs. Although each community has its own set of fitness facilities, several gyms and running paths are laid around the area. In terms of medical facilities, NMC Hospital is present near the development. However, numerous clinics (such as Cedar's DIP Clinic) and pharmacies are scattered around Dubai Investment Park.
3. Motor City
As the name suggests, Motor City is a residential area based on motor-sport themes. Motor City spans across three kilometre squares and includes a racetrack - The Dubai AutoDrome and a theme park - F1-X Dubai. The area is perfect for people who are not just looking for a beautiful place to stay but are also open to memorable experiences and thrilling adventures to spice-up their lives.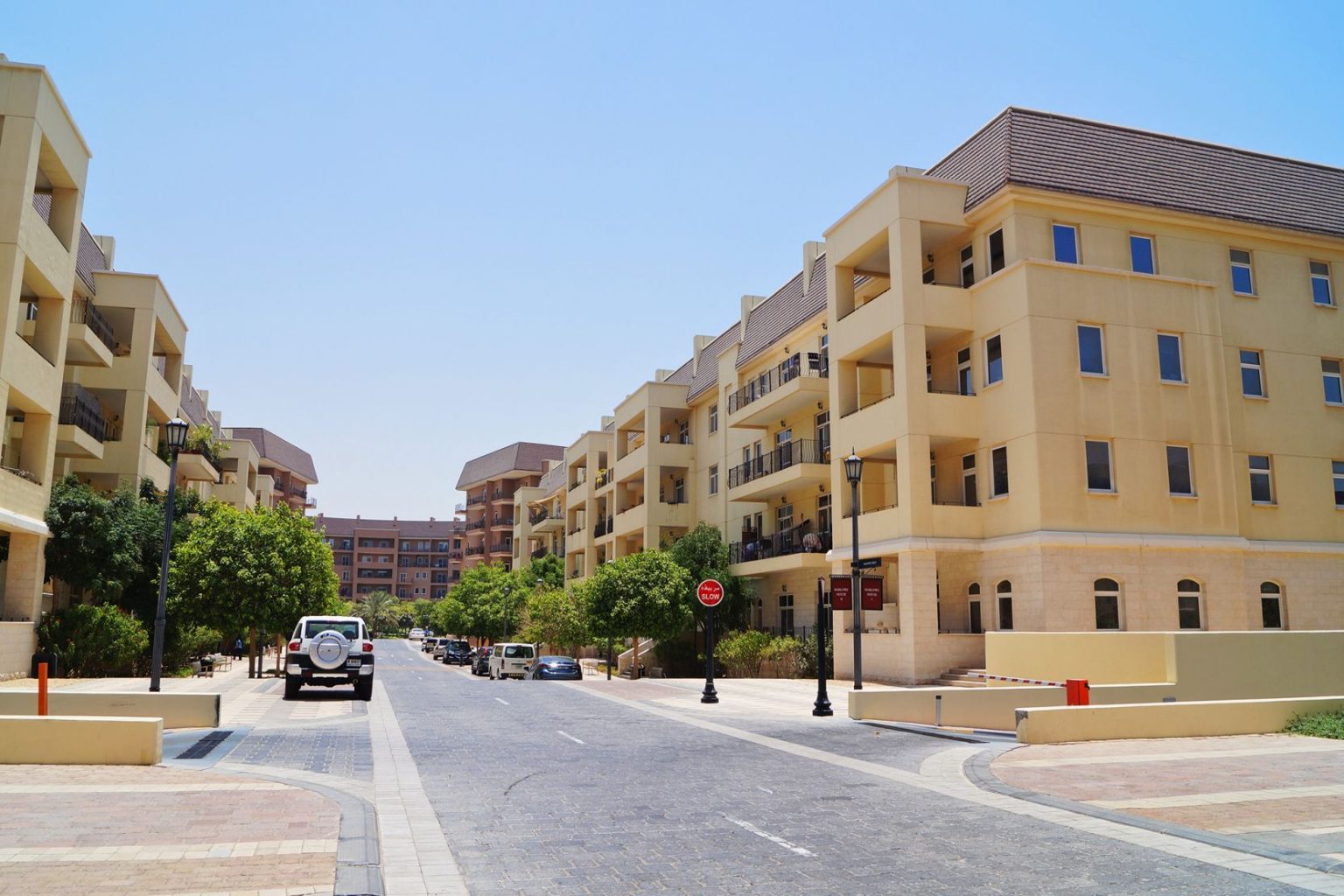 The area consists of villas, townhouses and apartments – all uniquely designed to entangle modern living and auto lifestyle. A studio apartment for rent in Motor City is AED 45K which includes a beautiful, lush green view and plentiful amenities. Meanwhile, a one-bedroom apartment can be rented for an average AED 60K. Spacious two-bedroom and three-bedroom apartments are priced at AED 90K and AED 120K respectively.
Motor City is designed such that it is ample distance from the city centre and can be self-serving. Still, Sheikh Mohammad Bin Zayed Road, Umm Suqeim Road and the Hessa Street interchange all allow for access to and from Motor City all over Dubai. Arabian Ranches is close by while both Dubai Marina and Mall of The Emirates are a short twenty-minute drive away.
In terms of community, the area is popular among expats with small families and pets, thanks to the pet-focused facilities and low rental housing spaces. It is not uncommon to find joggers and health enthusiasts within the area, especially due to the plentiful walkways and cycling tracks. If the ample sports amenities are not enough for you in Motor City, Dubai Sports City is five minutes away and a haven for all things fitness in Dubai. Spinney's is the place to be for all your grocery needs, though there are plenty of smaller local supermarkets littered under the high-rise buildings. There're enough activities to go all-year round. The Els Gold Club is a gold-mine for many residents of Motor City, especially popular among the expat populations. Dubai Miracle Garden is another tourist hotspot and a worthwhile once-a-year trip. Don't skip out on go-karting or motor car racing around the Dubai AutoDrome.
4. Dubai Silicon Oasis
A free zone residential area, Dubai Silicon Oasis is located at the intersection of Sheikh Mohammad Bin Zayed Road (E311) and Al Ain Road (E66). Focusing on the 'live-here work-here' lifestyle, Dubai Silicon Oasis is ideal for individuals who prefer having their office close to home. This self-serving community is highly sought after not only due to its low-cost living spaces, but because it offers a tranquil and peaceful lifestyle within large, spacious apartments. Importantly, traffic is rarely an issue within this community, so commuters can enjoy a hassle-free entry into Silicon Oasis.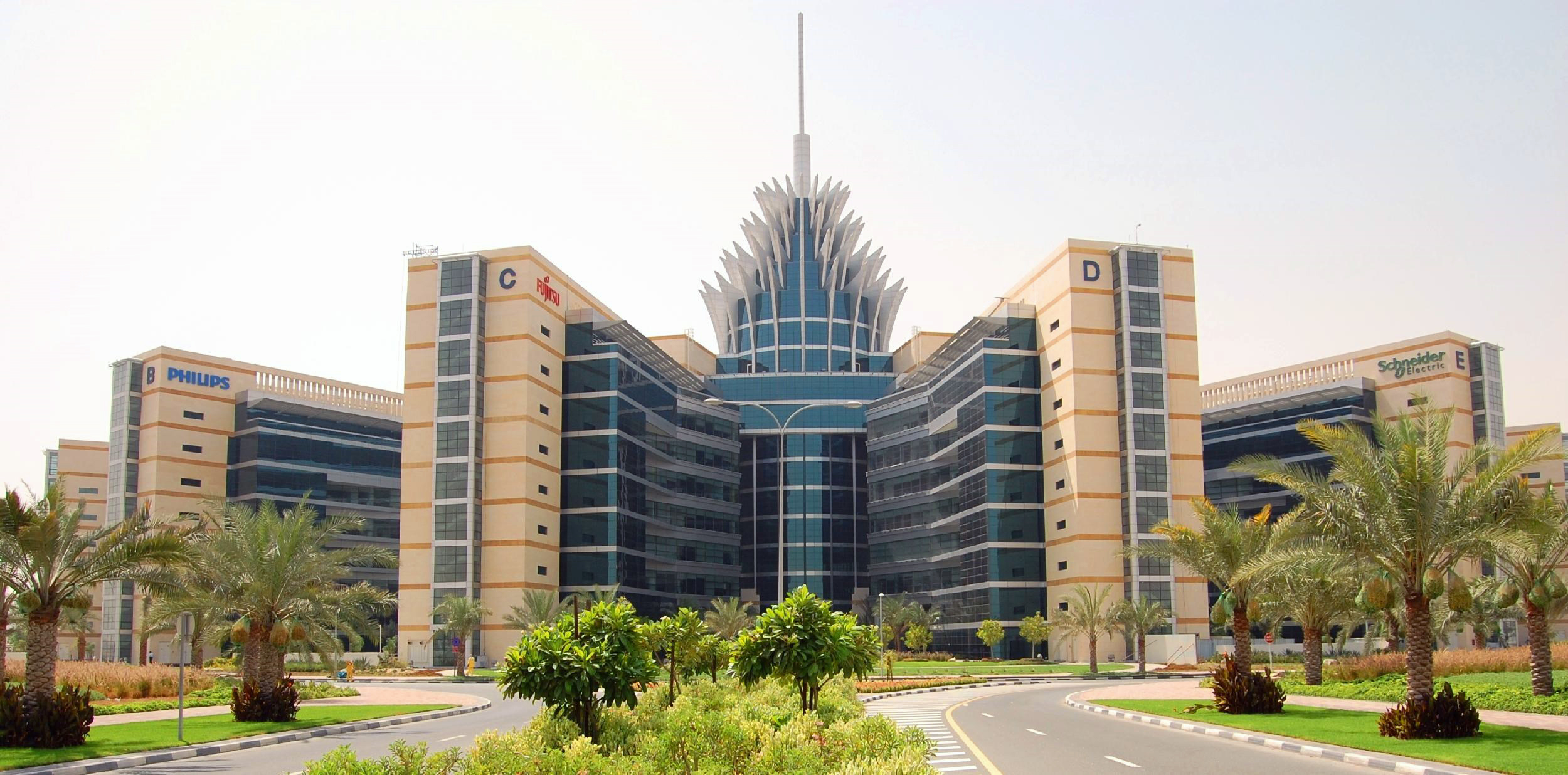 Studio apartments at this prime location can be rented at AED 35K, while a one-bedroom apartment in Dubai Silicon Oasis will put renters back AED 50K a year. Further up the bedroom ladder, two-bedroom apartments are priced at AED 75K and 3-bedroom apartments at AED 90K. Villa communities popular at Silicon Oasis include the Cedre and the Semmer Villas. Larger families can enjoy renting at the posh Cedre Villas that offer villas with 3, 4, & 5 bedrooms within their gated community. 4-bedroom villas for rent in Cedre Villa community are priced at AED 160K. These housing properties are offered in three different architecturally designed styles – Arabic, Modern or Traditional. Residents of the community can enjoy shopping sprees in the Cedre Villas Community Centre. Meanwhile, Semmer Villa consists of over five hundred three-bedroom villas for rent. Both villa community offer stylish living at a great value for money.
Dubai Silicon Oasis lies a twenty-minute drive away from Dubai International Airport and a ten-minute drive from the discount-hub of Dubai – the Dubai Outlet Mall. Like bees to sugar, upcoming tech start-ups and young entrepreneurs are attracted to Silicon Oasis. Moreover, due to its affordable housing and close proximity to Academic City, the area houses several young students and smaller families looking for higher quality education. The luxurious lifestyle led at the modest price tag is attracting a plethora of expat population to Silicon Oasis. Since the area sits in its own little corner in Dubai, it has greatly focused on providing ample leisure activities for residents within the community. Plenty of swimming pools, squash courts, yoga and gym centres are scattered around the area. Both Semmer Villa and the Cedre Villa Community provide their own tennis courts.
5. Discovery Gardens
Discovery Garden is definitely in the radar for anybody looking into low rent apartments in Dubai. Not to be mistaken for its near neighbour the Gardens, this community is a hotspot for not only renters but also those wishing to purchase property in Dubai. Nestled in Jebel Ali, facing Sheikh Zayed Road on one end and Mohammad Bin Zayed Road on the other, Discovery Gardens is a leafy suburb popular amongst expats in Dubai. Dubai Marina is Discovery Garden's neighbour, though the latter is barely half as expensive. A prime location for people with jobs in the Dubai Free zone areas, Dubai Media City and Dubai Internet City are a mere 15 minute away by car.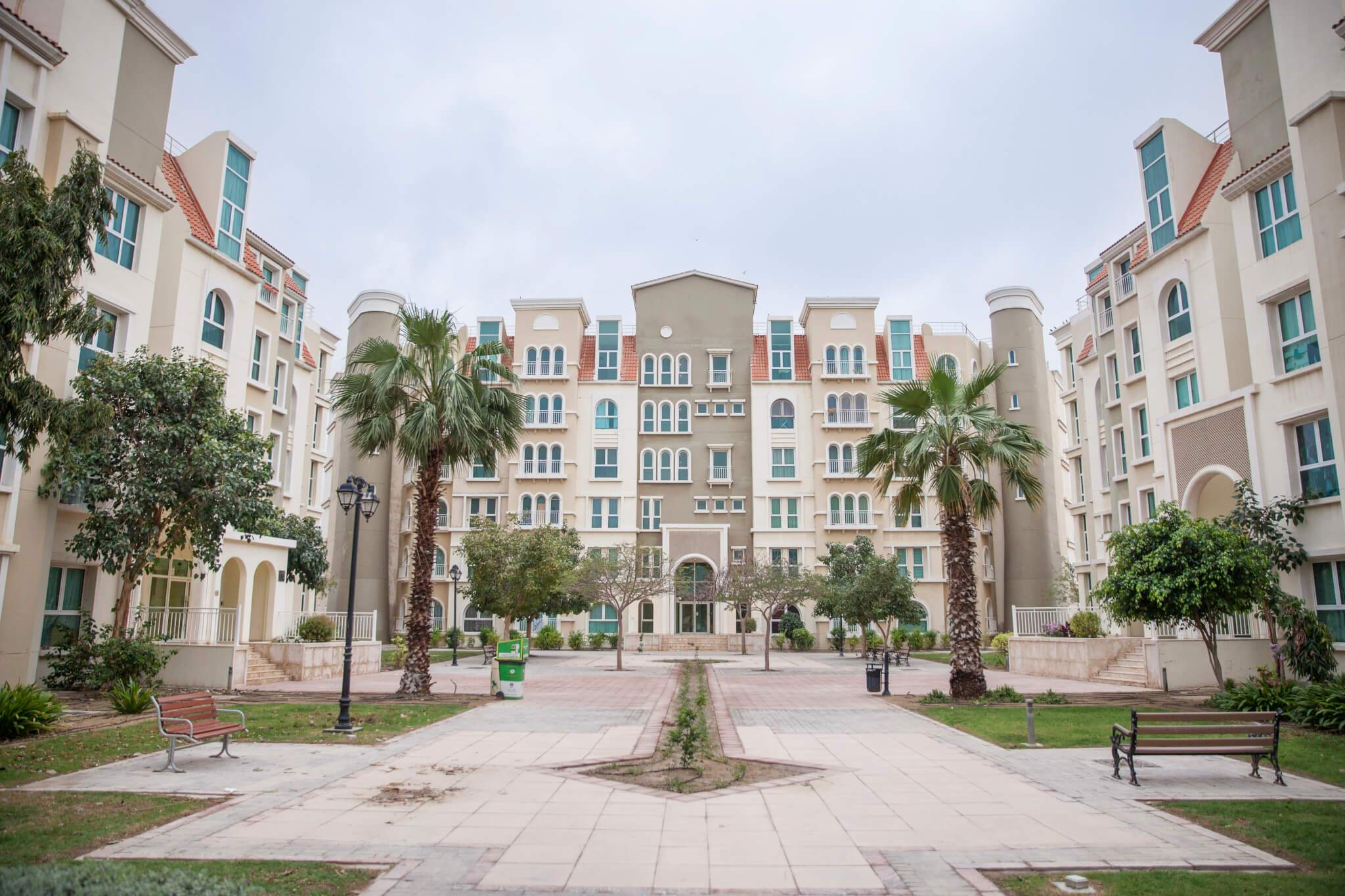 Although the area primarily serves studio, 1-bedroom and 2-bedroom apartments, there are a few 3-bedroom apartments available in the area. The area houses over 60,000 tenants in its nearly three hundred low-rise buildings. A studio for rent in Discovery Gardens can be priced at AED 33K, a one-bedroom apartment at AED 55K and a two-bedroom apartment at AED 80K. Popular areas to rent within Discovery Gardens include the Asian-inspired architectural buildings in the Mogul and Zan cluster. Four other thematic developments present in Discovery Gardens include the Mediterranean cluster with a European-style living focus, Contemporary, Cactus and Mesoamerican. If you're looking for furnished studios for rent in Dubai, Discovery Garden's Mogul neighbourhood is just the place for you. A furnished studio apartment can be rented at AED 40K per year.
The community is welcomed to a peaceful lifestyle, away from the hustle and bustle of central Dubai. Much like majority of its neighbours, Discovery Gardens is ideal for health enthusiasts, with cycling tracks, running tracks and other facilities emerging within the lush neighbourhood. As expected, a mall is not too far off from the development – Ibn Battuta residing five minutes away by car. A plethora of amenities are available within the area such as swimming pools, spas, fitness facilities, restaurants and cafes. Beaches lie fifteen minutes away and a running track is present throughout the neighbourhood. The Montgomerie Golf Course, lying not too far away, is a popular hotspot for the residents to enjoy a day off relaxing. Although Discovery Gardens does not have its own metro station yet – the Discovery Gardens station is still being built – the Ibn Battuta Metro Station is your best bet.
All of the aforementioned areas are not only the best rentals in Dubai for their price, but they are all unique in their own way. A few other areas that should be on your radar while looking into low-cost living spaces in Dubai include Muhaisinah 4, Al Baraha and Al Jafliya.